Making buying for the first time easy
Buying a home for the first time is a joyful experience - but newcomers to homeownership can often feel a little overwhelmed by what's involved. With so many things to consider and arrange, we understand how daunting the journey can sometimes seem.
What you need is the clear, professional advice of a first-time buyer solicitor, and Homeward Legal is the place to call. Our team are the welcoming, experienced voice on the other end of the phone who can help remove any stress from the legal process.
We are here for you every step of the way, with no hidden surprises and no extra costs. Our friendly team is available seven days a week while our nationwide panel of first-time buyer solicitors and conveyancers have the knowledge and expertise to ensure your transaction goes smoothly.
Whether you just need a helping hand with the conveyancing process or you'd like us to organise building surveys as well, we can provide the whole package. Read on for everything you need to know about first-time buyer conveyancing and start the journey to collecting the keys of your very first home right here, right now!
What is first-time buyer conveyancing?
What is first-time buyer conveyancing?
The word conveyancing is a catch-all term to describe the legal formalities and paperwork that must be carried out for any property or land transaction. As first-time buyers, all this will be done for you by a conveyancing solicitor or a licensed conveyancer.
---
What do first-time buyer solicitors do?
What do first-time buyer solicitors do?
As part of the first-time buyer conveyancing services they offer, your solicitor will:
Confirm your ID

Ask to see a mortgage offer, if you are buying with a mortgage

Agree a completion date

Exchange contracts with the sellers

Transfer the funds on completion day and arrange for the collection of keys

Register you as the new owner of the property with the

Land Registry

Pay any

Stamp Duty Land Tax

(in England) or

Land Transaction Tax

(in Wales) on your behalf
---
"Our expert friendly team are on hand 7 days our week to help match you with a conveyancing solicitor, and ensure your sale progresses. Over the years we've helped thousands of local homeowners throughout England and Wales with their legal conveyancing needs, and we are always looking for ways to make the conveyancing process simple and straightforward"
Hari Keogh, Customer Support Team Leader
How does the conveyancing process work?
How does the conveyancing process work?
For first-time buyers, the conveyancing process can seem long, daunting and complicated. In fact, even for those who are experienced in the property market, it doesn't always get any easier! But to give you an idea, here's a basic summary of how the conveyancing process works once your offer has been accepted:
You fill out the ID documents and instruction forms

Your

first-time buyer solicitor

receives the contracts from the seller's side

Your solicitor raises any enquiries with the sellers

Your solicitor orders searches from local authorities and the

Environment Agency

, as necessary

Terms are agreed and a date for completion is set

Contracts are exchanged between the two sides

The process is completed and you move into your new home

Your

first-time buyer solicitor

registers you as the new owner and pays any stamp duty that is due
---
How much are first-time buyer solicitor fees?
How much are first-time buyer solicitor fees?
For a first-time buyer, conveyancing fees will vary depending on a number of things, including the value of the property. Unfortunately, that means there is no simple answer to this question. However, to give you an idea, these are some of the charges you might expect to see:
Solicitors' fees

Surveyors' fees

Stamp Duty Land Tax (SDLT)***

Land Registry fees

Local authority searches

Electronic bank transfer fee

VAT
***Due to the government extending the Stamp Duty holiday, no SDLT will be due on the first £500,000 of a property in England until the end of June. From the start of July, first-time buyers will not have to pay any SDLT on the first £300,000 of a main residential property. In Wales, where SDLT is known as Land Transaction Tax, the first £250,000 will be tax-free for first-time buyers until June 30. After that, the rates will revert to where they were pre-Covid, which means the threshold will drop back to £180,000.
---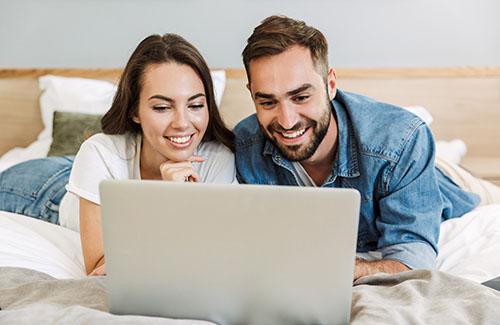 From information about the conveyancing process and energy performance certificates, through to advice about removal firms, our conveyancing buying guides section can support you.
Find out more
Why choose Homeward Legal for first-time buyer conveyancing
For a first-time buyer, choosing a solicitor is not an easy task. You want a professional you can trust, and that's why you should come to Homeward Legal. We will put you in touch with only the very best solicitors for first-time buyers, and here are just a few of the reasons to choose us:
Simple & Straightforward
We pride ourselves on not confusing you with lots of legal jargon. We understand the buying and selling process is complex enough without the terminology making it worse. Everything will be delivered in pain, simple English that makes the process easy to understand.
Fixed Legal Fees**
When you get residential conveyancing quotes from us, the fixed legal price** we quote you is the price you'll pay, with no hidden costs. At Homeward Legal, we don't believe in hiding additional fees in the small print.
No-Completion No Fee†
Don't worry if your move falls through. Our no-completion no fee means there will be no legal fees for you to pay.
Trusted
Customer service is something we pride ourselves on. Don't take our word for it though, our hard work has been rewarded by the hundreds of glowing reviews we've received on Trustpilot.
Convenience
The convenience of an online conveyancing service with no requirement to visit a solicitor's office or even use one in your area. Most of the paperwork can be done online or by phone, making life easier and often speeding up the process as a result.
Regulated
All of the conveyancing specialists that we partner with are regulated under the Solicitors Regulation Authority or the Council for Licensed Conveyancers.
Open 7 days a week
If you need the team for help, advice or to ask any questions about your conveyancing, we can be contacted seven days a week until as late as 8pm on most weekdays, and 4pm at weekends.
---
Get in touch about a first-time buyer solicitor today
Want to know more about first-time buyer conveyancing? Our comprehensive step-by-step guide to the whole process plus our essential hints and tips will help answer any questions you have about becoming a property owner.
Of course, if you'd like to speak to a member of our team then don't hesitate to give us a call on and we'll do everything we can to help. And if you feel like you're ready to get started, we offer free, no-obligation first-time buyer conveyancing quotes in a matter of moments. So, why not take that first step to securing the keys to your first home!

---
Helpful Conveyancing Guides
Your Fixed Legal Fee** quote from Homeward Legal ensures that you pay no more than we have quoted you for and is based on the information you've provided to us being true and accurate.
There are specific circumstances on a minority of transactions that may require additional charges that could not be foreseen at the outset.
A list of those charges and explanations can be found here with details of the potential cost. These will only be charged following discussion with your conveyancer with a clear explanation of what they are for.
No Completion No Fee† is our promise that in the unfortunate event that your property transaction falls-through you will not be liable for any of the conveyancer's fixed legal fees for the work completed.
To secure this benefit a fee, already included in your quote, is taken upon on deciding to go ahead with your transaction.
Should your transaction fall through, for whatever reason, we can hold this amount on account for your next transaction or provide a refund.